Delray Beach man finds gold in gig as Sean Connery look-alike
BY SALLY J. LING
PHOTOGRAPHY BY DIANADFORD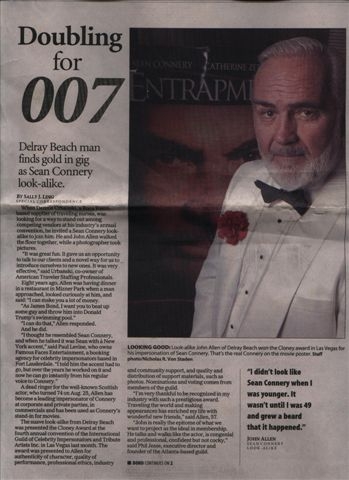 When John Allen shows up at a local eatery, women swoon. When he's in Las Vegas, foreigners mob him for photos and autographs. And why all the attention? This Delray Beach resident is a dead ringer for the well-known actor Sean Connery-the original James Bond.

At 57, Allen has become a leading impersonator of the actor at corporate and private parties, in commercials and has even been used as Connery's stand-in. To honor his achievements, the Fourth Annual Convention of the International Guild of Celebrity Impersonators and Tribute Artists (IGCITA) awared Allen the Cloney Award in August 2004.

Allen's rise to impersonator stardom began when he was "discovered" by a local talent scout, Paul Levine, who owns Famous Faces Entertainment, a Fort Lauderdale booking agency of celebrity impersonators.

"About eight years ago, I was having dinner at a restraurant in Boca Raton Mizner Park when a man approached, looked curiously at me and said 'I can make you a lot of money as James Bond, I want you to beat up some guy and throw him in Donald Trump's swimming pool I told him, "I can do that". "And I did" Allen recalled. Since then, Allen has donned Connery's signature white tuxedo, complete with red carnation, at hundreds of private parties and many times is accompanied by the Bond girls.

"I didn't look like Sean Connery when I was younger. It wasn't until I was 49 and grew a grew beard that it happened. It was a gradual transformation. Then the work started coming, and the phone started to ring. "Now I'm booked two to three times a month" Allen said.

One of the most moving experiences portraying James Bond came when Allen was in Las Vegas "This girl came up to me, and she was trembling, she told me, "You're my favorite actor in the world. This is the nicest thing that has happened to me in months. I just got out of the hospital for cancer." Allen recalled "I didn't have the heart to tell her differently".

Impersonating Connery is a far cry from Allen's early days as owner of a mens clothing store in Alden Pa. or from his move to Delray Beach 25 years ago when he owned a Wicker furniture store called "The Oasis" on Federal Hwy. He gave up his business when "Showbiz" called.

In between gigs, the occasional impersonator convention, and being auctioned off as the eligible bachelor of the evening at charitable events, Allen, who is divorced, enjoys going to the beach, and fixing up his house. Soon, however, Allen will be kept busy with his latest project-impersonating Connery in "Atomic City" a new TV series filming in Las Vegas. Also staring in the series are Elvis and Pamela Anderson impersonators. Allen will portray Connery as an evil scientist who hyponotizes women to get important information fron world leaders- all so he can achieve global domination.